Wings Etc. Martinsville to give back to community through 'Martinsville Mondays'
Wings Etc. of Martinsville plans to give back to community through re-occurring Dine to Donate opportunities on Mondays throughout 2022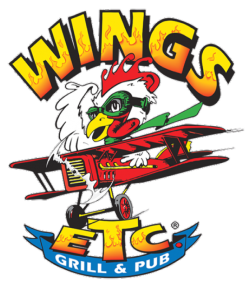 MARTINSVILLE, Ind. (Jan. 10, 2022)—Nearly a year ago, Mark and Amanda Powell were getting ready to open their first Wings Etc. Grill & Pub franchise. Thanks to a supportive community through their first year, the Powells are planning local give-back events in 2022, which they're calling "Martinsville Mondays." The goal, said Amanda Powell, is to designate a portion of Monday sales to a local nonprofit or to another nearby organization in need.
"Mark and I like to be engrained in the community we're in, and we believe that if we have the ability to give back, we should," said Amanda Powell.
With "Martinsville Mondays" at the local Wings Etc., 10% of food and non-alcoholic drink sales will be donated to a chosen organization on a designated Monday. So far, the following organizations have been selected for the following Mondays: Charles L. Smith Fine Arts Academy on Jan. 17, Indian Creek High School Prom on Jan. 31, Martinsville High School on Feb. 14, Martinsville High School Post Prom Fund on Feb. 21, Green Township Elementary on March 7, and Brooklyn STEM PTO on March 14. All events will take place from open to close, 11 a.m. to 11 p.m. Flyers for the events can be found on the Wings Etc. Martinsville Facebook page.
The Powells encourage food pantries, shelters, school organizations, and other charitable organizations interested in participating in Martinsville Mondays to contact them.
"It's all about giving back to the community," Amanda said. "This community was so welcoming as we were building our location, and they still are today."
Mark also noted that they hope to encourage people to dine-in at restaurants again, especially as carry-out options have become increasingly popular over the past several years.
"Our favorite part of running a restaurant is socializing with the guest and having fun with the guest and our employees," said Mark. "Martinsville Mondays will not only help us give back to the community, but it should also help draw people back into the heart of the restaurant."
"We want to create a place where people feel comfortable and where people decide to go on family night," added Amanda. She noted that she and Mark enjoy talking to their regulars, listening to guests' stories, and meeting new people.
Non-profits and organizations interested in learning more about participating in Martinsville Mondays should contact Mark and Amanda Powell at [email protected].
Wings Etc. Martinsville is located at 285 Grand Valley Blvd in Martinsville, Ind.
About the Wings Etc. Grill & Pub Franchise Opportunity
Founded in 1994 by Jim Weaver in the South Bend, Indiana, area, Wings Etc. is a family-friendly grill and pub with a diverse menu featuring award-winning jumbo Buffalo wings, over 20 signature sauces and rubs, premium burgers, wraps, salads, appetizers, sandwiches, subs, kids meals, over 40 domestic and craft beer selections in bottles and on tap, dozens of large HDTVs tuned to sports programming, and a casual, non-corporate-y, laid-back "vibe" that makes people want to just come in and hang out. In addition to its popular sports programming, menu, and beverage options, Wings Etc. offers weekday lunch and food specials, online ordering, and much more.
Franchising since 2004, Wings Etc. Grill & Pub has been named one of Restaurant Business Magazine's "Future Franchises," has been named one of Franchise Gator's "Top 100 Franchises" for several years, and was named a 2020 "Culture 100 Best of the Best" franchise by Franchise Business Review. In June 2021, Wings Etc. was named a "Top 200 Food Franchise" and a "Top 500 North American Franchise" by Entrepreneur Magazine. Wings Etc. continues to grow and succeed by partnering with franchise operators who share the Wings Etc. Vision, Mission, and Values, a commitment to building a successful business while helping build stronger communities and people (and to having fun!).
Wings Etc. offers single and multi-unit franchise options. The initial franchise fee is $39,500, with a $200,000 liquid cash investment, and $500,000 minimum net worth requirement for interested prospects. Wings Etc. offers one of the lowest startup costs and break-even franchise opportunities in the full-service restaurant segment. Priority growth markets include Ohio, Tennessee, Kentucky, Michigan, Missouri, North Carolina, South Carolina, Illinois, Pennsylvania, West Virginia, Alabama and Florida.
For more information about the Wings Etc. franchise opportunity, visit www.wingsetcfranchise.com.
Section: Press Releases