SEMO Wings Etc. locations continue give-backs through food, monetary donations
Wings Etc. Dexter, Cape Girardeau, and Jackson recently provided donations for two separate golf outings held on the same day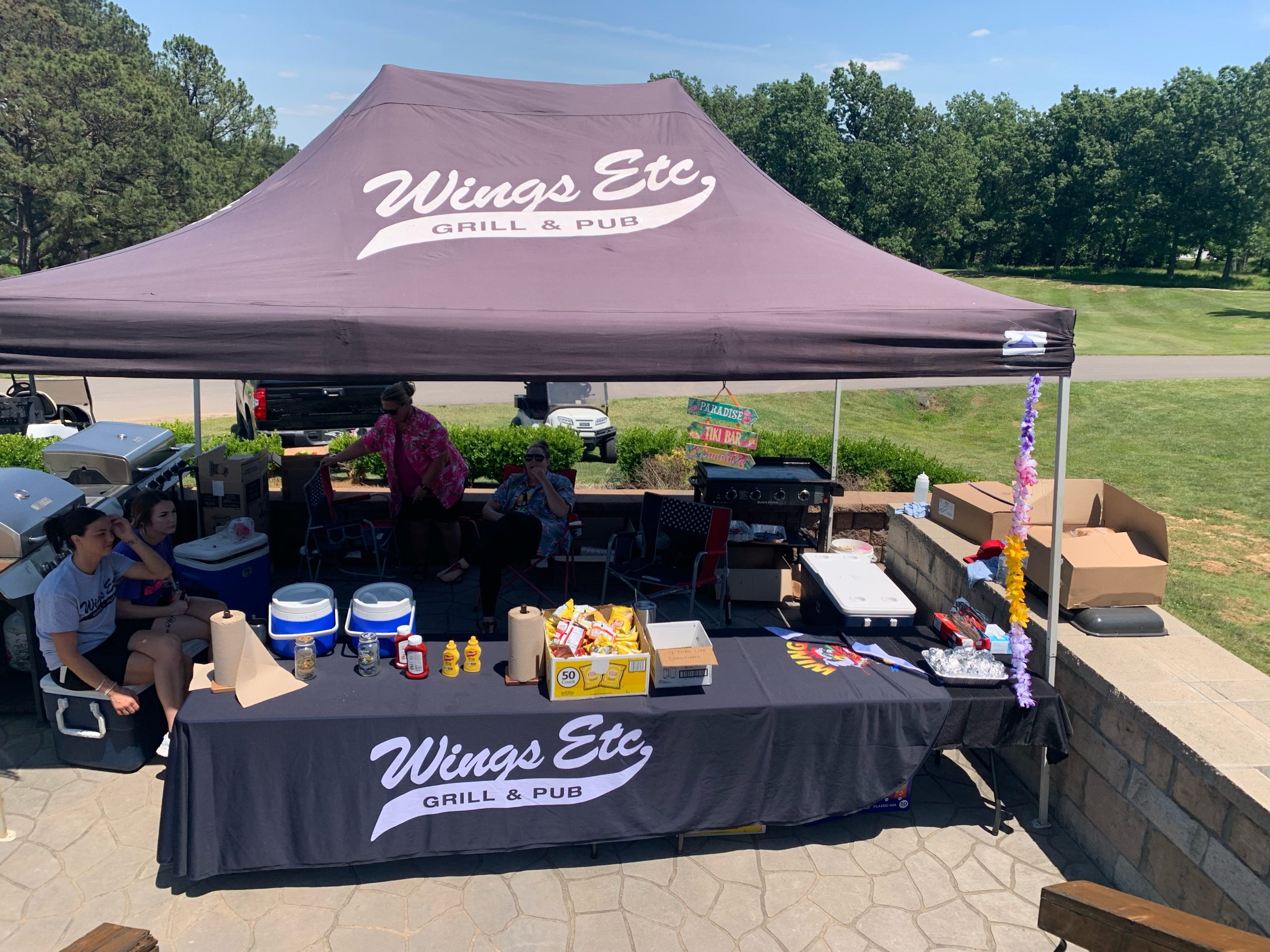 DEXTER, Mo. (June 30, 2022)—While Wings Etc. Dexter has only been open for six months, the Hobbs family are no strangers to giving back. Wings Etc. Dexter owners Joe and Michelle Hobbs (who also own Wings Etc. in Cape Girardeau, Mo., and Jackson, Mo.) recently had the opportunity to help with non-profit organization 18 FORE Life—an experience that turned out to be more than the Hobbs had expected.
"While we had donated food for the day of the golf tournament, we were also invited to a banquet the night before where we heard Scott Hamilton, an Olympic figure skater and cancer survivor, speak," said Joe Hobbs. "It was a very emotional night, and it's easy to see the impact 18 FORE Life has had on many people."
18 FORE Life began in 1999 when a group of friends got together with the goal of holding a golf tournament to raise as much money as possible for cancer research and treatment. The event evolved when one of the founding members, Ben Kruse, died in a tragic accident in 2004. Today, the group holds the Ben Kruse 18 FORE Life Charity Golf Tournament yearly to honor Kruse and continue to give back to the cause. Since 1999, the event has raised over $2 million—the majority of which has been given away locally to families all over southeast Missouri battling cancer in the form of "love offerings."
"They give away all of the money they raise to families, and you can see the impact these offerings have," said Joe Hobbs. "The cancer survivors are happy to know someone is thinking of them."
Hobbs, whose father passed away from cancer in 2015, received a special surprise during the outing when his father's name was placed in the "garden of love"—a memorial area honoring those who died of cancer.
During the Ben Kruse 18 FORE Life Charity Golf Tournament, Wings Etc. Dexter donated meals for the day. While the meals were free for the golfers, many donated tips that were then given back to 18 FORE Life. Through those donations, Wings Etc. was able to give the organization an additional $1,000.
The day of the tournament was particularly busy for southeast Missouri Wings Etc. locations, as the Hobbs's other locations in Cape Girardeau and Jackson were also part of another charity event benefitting the SEMO Athletic Booster Club. Joe Hobbs was president of the booster club for several years, recently stepping down.
Wings Etc. supplied food and gift certificates for the SEMO event, which helped raise money for scholarships and summer programs for SEMO athletes. Hobbs noted that Wings Etc. has been part of that event for nearly 8 years.
Since the opening their first Wings Etc. in Jackson in 2013, Joe and Michelle have lent a helping hand whenever they could. They feel a responsibility to help when they are able.
"When we first opened, we had people coming to us asking, 'Can you give?' and I always hated to say no," said Joe Hobbs. "We always try to at least give something, even if it's just a $25 gift card. We want to help as much as possible."
"There are so many organizations that want and need support and we feel like when somebody touches our heart, we want to do whatever we can," he continued. "We could focus on one or two organizations and give everything to one or two, but we like to spread the effort around and do everything we can to help whoever asks."
About the Wings Etc. Grill & Pub Franchise Opportunity
Founded in 1994 by Jim Weaver in the South Bend, Indiana, area, Wings Etc. is a family-friendly grill and pub with a diverse menu featuring award-winning jumbo Buffalo wings, over 20 signature sauces and rubs, premium burgers, wraps, salads, appetizers, sandwiches, subs, kids meals, over 40 domestic and craft beer selections in bottles and on tap, dozens of large HDTVs tuned to sports programming, and a casual, non-corporate-y, laid-back "vibe" that makes people want to just come in and hang out. In addition to its popular sports programming, menu, and beverage options, Wings Etc. offers weekday lunch and food specials, online ordering, and much more.
Franchising since 2004, Wings Etc. Grill & Pub has been named one of Restaurant Business Magazine's "Future Franchises," has been named one of Franchise Gator's "Top 100 Franchises" for several years, and was named a 2020 "Culture 100 Best of the Best" franchise by Franchise Business Review. In June 2021, Wings Etc. was named a "Top 200 Food Franchise" and a "Top 500 North American Franchise" by Entrepreneur Magazine. Wings Etc. continues to grow and succeed by partnering with franchise operators who share the Wings Etc. Vision, Mission, and Values, a commitment to building a successful business while helping build stronger communities and people (and to having fun!).
Wings Etc. offers single and multi-unit franchise options. The initial franchise fee is $39,500, with a $200,000 liquid cash investment, and $500,000 minimum net worth requirement for interested prospects. Wings Etc. offers one of the lowest startup costs and break-even franchise opportunities in the full-service restaurant segment. Priority growth markets include Ohio, Tennessee, Kentucky, Michigan, Missouri, North Carolina, South Carolina, Illinois, Pennsylvania, West Virginia, Alabama and Florida.
For more information about the Wings Etc. franchise opportunity, visit www.wingsetcfranchise.com.
©2022 Wings Etc., Inc. Franchises independently owned and operated.
Section: Press Releases