Greenwood officials gather to celebrate opening of new Wings Etc.
Wings Etc. Greenwood opened Tuesday and marks the sixth location for franchise group Karmah Group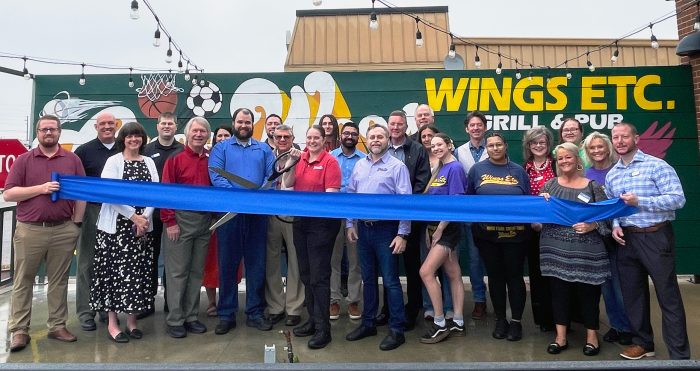 GREENWOOD, Ind. (April 6, 2023)—City officials including Mayor Mark Meyers and members of Aspire Economic Development and Chamber Alliance gathered at the Greenwood Wings Etc. on Tuesday to welcome the new restaurant to the community. Wings Etc. Greenwood, located at 1259 N. State Road 135 Suite A, is the sixth franchise location for Karmah Group, a multi-unit franchise group based in Indiana.
"We are very excited to be in Greenwood," said Wings Etc. Karmah Group District Manger Byron Mudd. "This is a thriving area that is continuously growing and expanding, and we're very excited to be a part of that."
Wings Etc. Greenwood provides almost 7,000 square feet of space and features an outdoor patio showcasing a mural painted by area artist Lejda Ramo. The mural depicts some of the details that make Greenwood a great place and includes large wings that guests can pose in front of for photos.
"Community is very important to us," said SP Singh, Wings Etc. franchisee and President & CEO of Karmah Group. "We strive to make sure our community knows that we are here to serve them and make sure they have a great time with us."
One of the ways in which Wings Etc. does that is through giving back.
"In all the communities we are in, we strive to give back through our Dine to Donate programs and sponsorships of local charities and organizations," added Wings Etc. Karmah Group Area Manager Wes Baker. "We are that local, neighborhood place where people can go to have good food and great times and help make a difference."
The new location opened with over 20 beers on tap and the usual pub grub found at Wings Etc., including award-winning buffalo wings, gourmet burgers, made-to-order wraps, kids' meals, and more.
"We take a lot of pride in the communities we do business in, and Greenwood will be no exception," stated Wings Etc. Greenwood General Manager Deanna Farina. "We are excited to serve the community, give back as much as possible, and provide good family dining in the process."
Wings Etc. Greenwood is open Monday-Thursday from 11 a.m. to 11 p.m., Friday and Saturday from 11 a.m. to midnight, and Sunday from 11 a.m. to 10 p.m.
Section: Expansion New Location Opening Press Releases