Franchise District Manager Pam Green retires from Wings Etc. after 7 years
Wings Etc. Franchise District Manager Pam Green is retiring on June 2, 2023, after more than seven years with the company.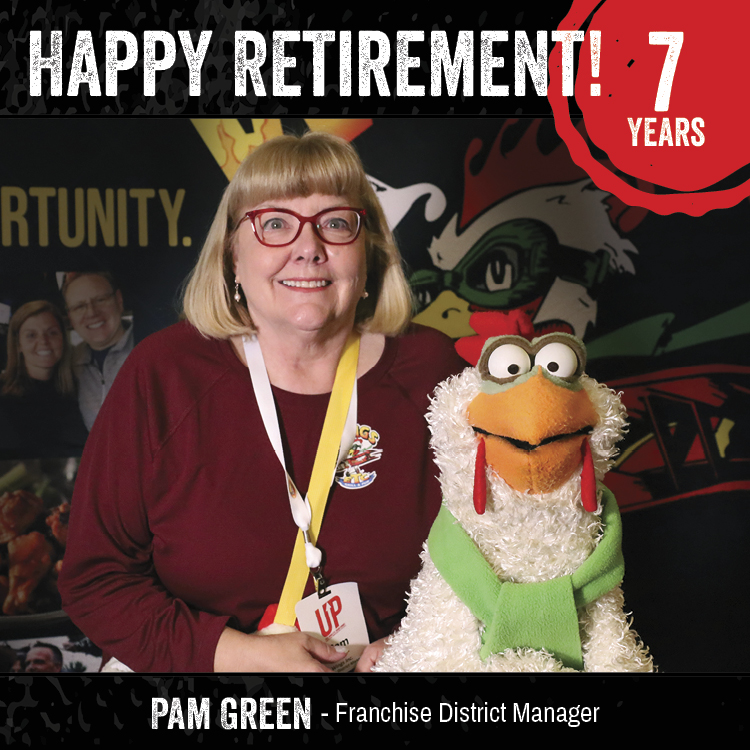 FORT WAYNE, Ind. (June 1, 2023)— After more than seven years with Wings Etc., and over four decades in the restaurant industry, Wings Etc. Franchise District Manager Pam Green is retiring. Green, who serves 16 locations in eight states, began at Wings Etc. in March 2016.
"Wings Etc. has been wonderful to work for," said Green. "We have a very nice group of leaders who really care about their people and provide constant support. I am truly grateful for the incredible opportunities and exceptional people I've met."
Green came to Wings Etc. after 13 years with Fazoli's and 17 years with Denny's, where she first met Wings Etc. CEO Rob Hensmann when she hired him as a Denny's manager 30 years ago.
"I had remained friends with Rob and his wife, and I knew he had something to do with Wings, so when I saw they were hiring a FDM, I sent him my resume," said Green. Later, she would recruit two coworkers from a previous job to the Wings Etc. team because she was so impressed with the company.
Green's first stint in the food industry began when she was hired at a Pizza Hut outside of Indianapolis at 18 years old. From there, she worked at a steakhouse and began to move through the ranks. At both Denny's and Fazoli's, Green worked in various management roles.
During her tenure with Wings Etc., Green helped franchisees overcome obstacles, pushed them to excel in food safety and sanitation, listened to their needs and relayed information to upper management, and spent much of her focus on guest satisfaction across her district.
"I've always enjoyed the fact that something different happens every day," she explained. "It's not repetitive, and it keeps your attention constantly. I've also seen a lot of the country traveling to franchises and met many great people."
Green's district covered franchise locations in Michigan, Ohio, West Virginia, Kansas, Illinois, Missouri, Kentucky, and Indiana.
Green leaves behind two pieces of advice for those just starting their career:
"First, for anyone in any industry—you need to start contributing to a 401k immediately," she stated. "I know I wouldn't be retiring now if it weren't for investing in myself."
"Second—and this is for FDMs and District Managers—we are the only direct contact between our franchisees and the company," Green explained. "It's important to make yourself available for them anytime, any day. It really goes a long way for building relationships as well."
As Green embarks on the next chapter of her life, she plans to spend time with her mom and intends to travel Europe with a cousin in September, stopping in Norway to visit family and then seeing Switzerland and Italy. In addition, Green said plans are already being made to tour England, Ireland, Scotland, and Iceland in 2024.
Her final day with Wings Etc. before retirement begins is June 2.
"I have been so grateful to work with the people at Wings Etc. over the past seven years," said Green. "It has been an honor to work alongside such a talented and dedicated team of professionals. I am grateful for the opportunity to have contributed to the growth and success of this amazing company and look forward to my next adventure."
Section: Press Releases